ISN'T WINDOW CLEANING SIMPLY
CLEANING WINDOWS?
WINDOW CLEANING REQUIRES THE BEST TOOLS AND SKILLS
Worn-out squeegee rubbers and damaged equipment will negatively affect cleaning results. The best window cleaning results come from the experience of knowing when to replace tools. You also won't find the best window cleaners buying supplies and tools they need from a local handyman store. Instead, Professional window cleaners buy their supplies and tools at specialty stores. For example, a couple of USA online stores are, ABC Window Cleaning Supply Inc., and CWC Supply Inc. In Canada, there's, Canada Cleaning Supplies and The Window Cleaning Store, both of which are local in Toronto.
Professional window cleaning supplies and equipment cost much more, but the quality of cleaning from such tools is well worth it. It's simply impossible to get the same high-quality cleaning from the type of supplies and tools sold at local handyman stores. Of course, just having the right tools means nothing without the experience that comes over time. At Toronto Clear View Window Cleaning, we have over 30 years of experience doing what we do.
Windows are expensive to replace and damage easily. The glass itself can break. The seal around the windows can be damaged. Additionally, it is a dangerous activity. Falling off ladders is one of the most common causes of injury. Is it worth risking a lifetime injury or death when others can do the job? The best way to prevent personal injury and window damage is to hire an experienced professional window cleaner.
HOW IMPORTANT IS WINDOW CLEANING?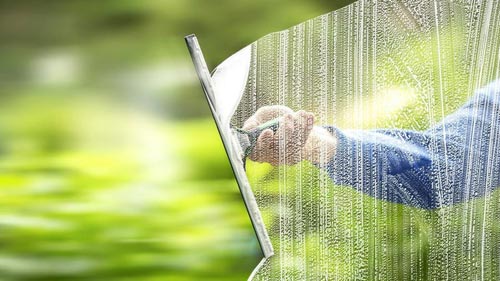 Clean windows are a reflection of your home or business. It also reflects on the company you hire. Window cleaning neglect results in glass degradation. The dirtier a window gets, the harder it is to clean. Many think that glass is an entirely flat surface, but there are pores in the glass that holds dirt. More regular cleaning is needed when exposed to read or construction sites. Salt, dust, overspray, and all adhere to the window glass. Having a professional clean with the right tools can save money in the long run because the windows will last a lot longer.
Another benefit to window cleaning, especially in colder climates like Toronto, is that clean windows improve heating efficiency. A dirty window blocks the free heat generated by the sun. With fewer leaves on the trees and the sun being more on the horizon, that extra sun heat will save on heating costs, and only clean windows can take advantage of that. Of course, who can deny the view that a clean window provides? Looking at the beauty of freshly fallen snow in the Winter or the colours of blooming flowers in the Spring is enhanced by hiring a skilled window cleaning company.
At Toronto Clear View Window Cleaning, you will experience the difference between professional and casual cleaning skills. We guarantee it.
WHY OFFER DIFFERENT WINDOW CLEANING PACKAGES?
Not everyone has the exact cleaning needs, and neither has the same type of windows to clean. For your convenience, we offer various Packages to suit your needs. Those wanting the best cleaning experience will select our Gold Package. It includes cleaning the window glass, the frames, the ledges, the sills, the tracks, the screens, and even the storm windows with that type of detail, whereas the Silver Package options include a less detailed type of cleaning, but may very well suit your particular needs. There's also a Bronze Package for those who want just the basics and to save money.
Whatever package is chosen, and no matter how the windows are configured, you have simple options that are all broken down with our Online Instant Quote Calculator. By the way, we are proud that we are the 1st in North America to offer such a tool. It's the same tool we use when doing onsite quotes. You just need to figure out what you want to be cleaned and how you want them cleaned. Windows come in many different configurations. You might have a sunroom, a solarium, skylights, mirrors, light fixtures, or something else. You are 100% in control.
WHERE DO WE OFFER OUR WINDOW CLEANING PACKAGES?
For over 30 years, Toronto Clear View Window Cleaning has been serving southern Ontario: Ajax Window Cleaning, Aurora Window Cleaning, Brampton Window Cleaning, Bridle Path Window Cleaning, East York Window Cleaning, Etobicoke Window Cleaning, Forest Hill Window Cleaning, Halton Hills Window Cleaning, High Park Window Cleaning, Lawrence Park Window Cleaning, Leaside Window Cleaning, Markham Window Cleaning, Mississauga Window Cleaning, Newmarket Window Cleaning, North York Window Cleaning, Oakville Window Cleaning, Oshawa Window Cleaning, Pickering Window Cleaning, Richmond Hill Window Cleaning, Rosedale Window Cleaning, Scarborough Window Cleaning, Stouffville Window Cleaning, Thornhill Window Cleaning, Toronto Window Cleaning, Uxbridge Window Cleaning, Vaughan Window Cleaning, Whitby Window Cleaning.
ONLINE WINDOW CLEANING REVIEWS
We are incredibly proud of the positive feedback from our customers. Being voted the best window cleaning company for so many years is quite an accomplishment. All of the overwhelmingly positive feedback is why we dedicate a webpage exclusive to those reviews here.
Check out some of our reviews